Exported Reporting
Refer to the video on this feature at our YouTube Channel.
All the reports are covered in this video. Links to articles on each report are at the bottom of this article.
You can export reports of you plans into spreadsheet programs in csv format.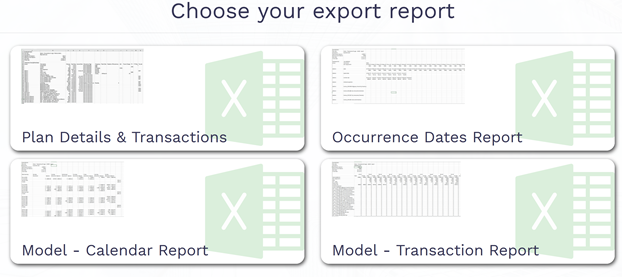 Note: The csv files are designed to open in a spreadsheet nicely formatted and easy to use. Some internet browsers will not permit this. If you have a download that is not easily readable, do the following;
Export to csv. Save the file.
Locate the file and rename it with .csv as an extension to the name it is currently saved as.
Open the file in your spreadsheet.
Ensure you rename the file prior to moving or editing it. Otherwise it may not read correctly in your application.
The number formatting of the download in your spreadsheet may differ from that on the site. For example, all numbers may appear in black font, or all negative numbers may appear in red font. You'll need to change the formatting yourself to reflect that on the site or email us and we can show you how to do this.
If you want to reformat the export or include it in a workbook, save it with a .xls or .xlsm extension. Saving it with a .csv extension will mean when you save the file, you'll lose all formatting and only the first worksheet in the workbook will be saved.
Files for import must be single-sheet files saved as csv files with the .csv extension in the file name.
See our articles on each report: Plan Details & Transactions, Occurrence Dates, Model - Calendar, Model - Transaction, as well as the article on how grouping can be used in reports.